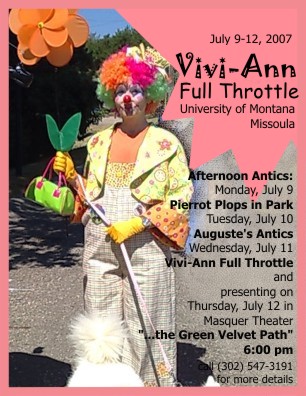 The activities are planned.  The plane tickets are booked.  The professional paper is drafted and Fed Exed.  According to their web site it was delivered at 9:58 am (assuming it was mountain time).  It is there now.  And the bubble machine was delivered yesterday afternoon at 3:45 pm.   My  UPS  box is currently scanned through Billings Montana .  Which leaves only Pierrots costume , which has been shipped via DHL and has left Ohio yesterday.
Now all I have to do is organize the catering, record the music on Thursday, sew my pants at vest, and pack all this stuff up.  I am still missing a bell and bell pull cord in the way of props too.  Mail a few postcards.  Oh, and pick up the laptop!
Which leaves the powerpoint presentation still in quite a dissarray at the moment.  I am organizing this for work in Montana on Saturday and Sunday.  Hopefully the rest will be done by Thursday.  Big sigh.