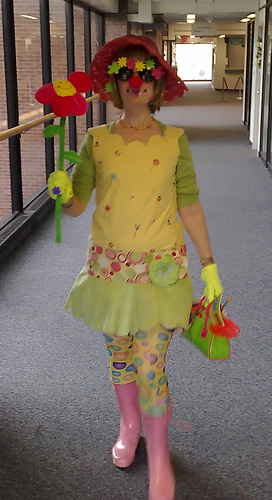 this was perhaps akin to a tryout in Boston.  what could be more apropos than Vivi-Ann, the MOD clown, at a 60s themed Employee Recognition event.
it was hard.  partly because constantly clowning a crowd for even a half hour is hard.  this stint was for about 2 hours, with a wee break here and there.  partly because I had to sew up some bloomers early that AM to be "decent" all of the time under the mini-dress.  partly because I was recovering from a back sprain and partly because I was fighting an earache and head cold.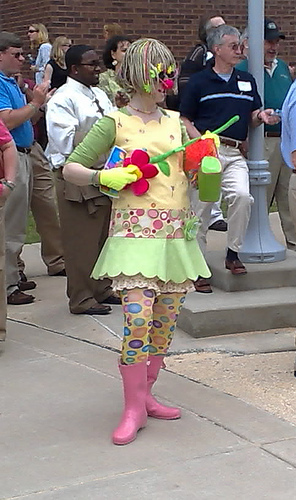 Make a Note:  Always pack heavy duty antihistimines as part of a standard clown kit.
This gig was difficult mostly because I KNOW all these people and work with them every day, and would see them again the next day and the next.  I didn't feel really "connected"., but I was in  a very real and official way – "out there"  just "doing it".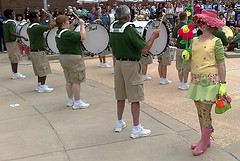 All the feedback I have gotten and the hubby has gotten has been good. "Very entertaining" was a common theme in the remarks.  The best were the compliments from our campus director.  I had a chat with him (in character), about my experiences.   
However, it is another occasion for the Pisoni cycle of MMMM – and here are my R-reflections:
I need to get a nose tip for this outfit – in sparkles.  Even a small round nose is too "nosey" and knobby. 
I need to stuff the hat top and fix it to the hair  AND remember to ALWAYS pin the wig to my real hear at least twice.  
The wig is OK without the hat. 
I need to be aware of the props in my hands.  I am always making a picture.  Too much stuff shouldn't be hanging out of purse, or I shouldn't be holding onto many pieces unless there is a purpose. 
The 20% chance of rain joke with the little umbrella was great.  It truly was inspired by the actual weather forecast – that is why I wore the galoshes.  But the only clown umbrella I had was a teeny one, and I thought : "Gee its a 20% chance of rain one."  How about that.  I actually wrote a funny joke.
I need more oomph and Out-there-ness!!! Maybe this would have come easier If I hadn't been feelingn poorly overall.  I also need to work on my horribly neutral posture a lot of the time.
Make a Note:  Clown is All or nuthin' much.